Donation & Volunteer
Donation Method
Online donation
You can make on-line donations through PayPal, AlipayHK or FPS (LST Online Donation Platform), or through e-donation or bank bill payment services offered by participating banks' platform (BOC).
Download Donation Form
Please submit the filled form with crossed cheque or related transaction record to issue an official receipt.
By Cheque
Please prepare crossed cheque made payable to "The Lok Sin Tong Benevolent Society, Kowloon" by mail or in person to Corporate Resource Development Department, 3/F, 61 Lung Kong Road, Kowloon City.
Through Bank / ATM
Donations can be deposited to the following bank accounts of The Lok Sin Tong Benevolent Society, Kowloon or through city-wide "ATM" electronic teller machines at:
Hang Seng Bank:
285-000089-003

Bank of China (Hong Kong):
012-589-0-003845-7
HSBC:
096-136494-001
The Bank of East Asia:
514-40-405946-2
By PPS
Our merchant code:6301
Fast Payment System (FPS)
FPS ID: 166275263
PayMe
Scan the QR Code directly (as below)
Using mobile phone and click the link for donation:
https://qr.payme.hsbc.com.hk/2/CnMcv2dCPnbSW4eymxb8JE
*Please specifically indicate if you would like to make donation to particular donation item(s).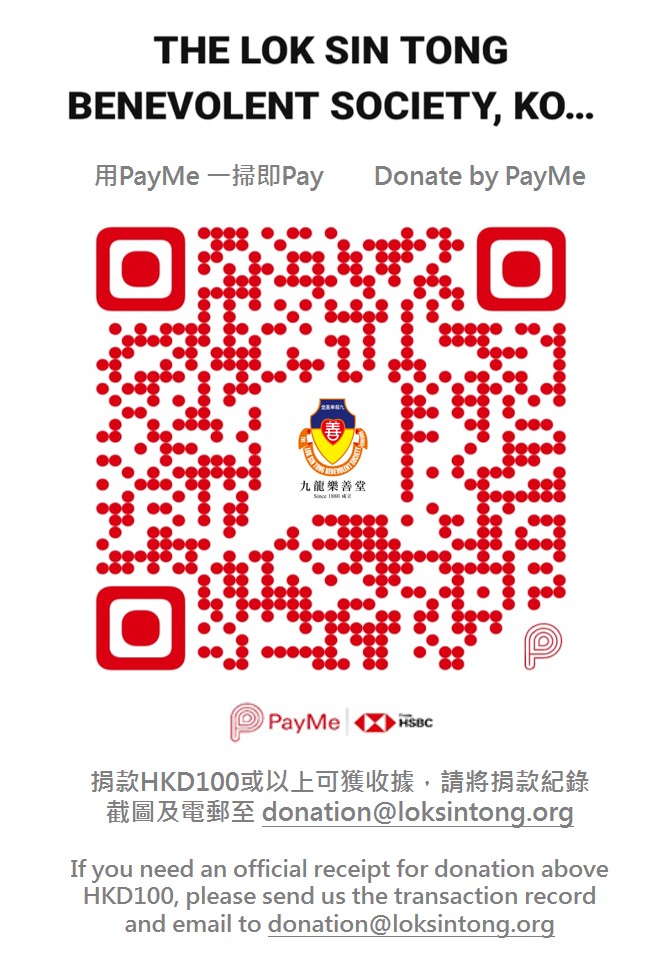 Through Convenience Stores
Please present the donation barcode to any Circle K, VanGO store, U Select or China Resource Vanguard Supermarket.

In Person
You can bring along the donation cheque / credit card / cash to The Lok Sin Tong Benevolent Society, Kowloon during office hours from 9:00am to 6:00pm, Monday to Friday.
The Coin Dragon Coin Exchange Kiosk
The unused coins will be made as donation to Lok Sin Tong.
Put coins (all denominations accepted) on tray of the coin exchange kiosk.
The kiosk will automatically calculate the amount of coins.
Press Charity Donation to The Lok Sin Tong Benevolent Society Kowloon
If receipt needed, please fill in your information via the kiosk. An official receipt will be issued to you within a month.
Over 60 Coin Exchange Kiosks have been put into service, Search For Kiosk: https://thecoindragon.com/
Policy Donation
You can donate a certain percentage of the sum insured (e.g. 99% to relatives and 1% to charity) to designated Charity. For more details, please click here.
Remarks
Receipts will be issued for donations over HK$100, which are tax deductible in Hong Kong.
If donation receipt is required, please send the donation record / bank-in slip / ATM transfer advice slip or receipt issued by Circle-K Convenience Stores together with name and correspondence address of donor to donation@loksintong.org or the following address: Corporate Resource Development Department, 3/F, 61 Lung Kong Road, Kowloon City
The provision of personal data is purely voluntary. We may be unable to complete the donation transaction through internet if data is insufficient.
The personal data provided will be used in processing the donation transaction, issuing of receipt and sending of fund-raising information. The personal data will be disclosed to staff member(s) of The Lok Sin Tong Benevolent Society, Kowloon and the related bank(s) on a need-to-know basis.
Donation Hotline
2272 9808 / 2382 1576
5485 1633 (WhatsApp):Click here to start conversation
Fax
2382 1811
Email