Our Services
Medical & Health
Lok Sin Tong Community Pharmacy Services
Lok Sin Tong Community Pharmacy Services
With a growing demand for healthcare services in the community, The Lok Sin Tong Benevolent Society, Kowloon established a community pharmacy in Kowloon City. We aim at strengthening primary care support in the community via a wide range of new community pharmacy services in a non-profit business model. The Pharmacy is managed by community pharmacists who strive to provide quality pharmacy services and affordable medications to the public.
Our Community Pharmacy Services include:
Dispensing SFI (Self-financed items) prescription medications at an affordable price with counselling by our pharmacists

Dispensing medications for Cold and Flu with counselling by our

registered

pharmacists

One-stop service featuring pharmacist management of minor ailments

Free pharmacist consultation on medication use and health-related problems

Safe Med Pack (Medicine pack for travelling and home use)

Community outreach services
Address
1/F, Luxe Metro, 50 Junction Road, Kowloon City
*Prince Edward pharmacy will be opened by Fourth Quarter of 2021


Public Transportation Guide (Click here)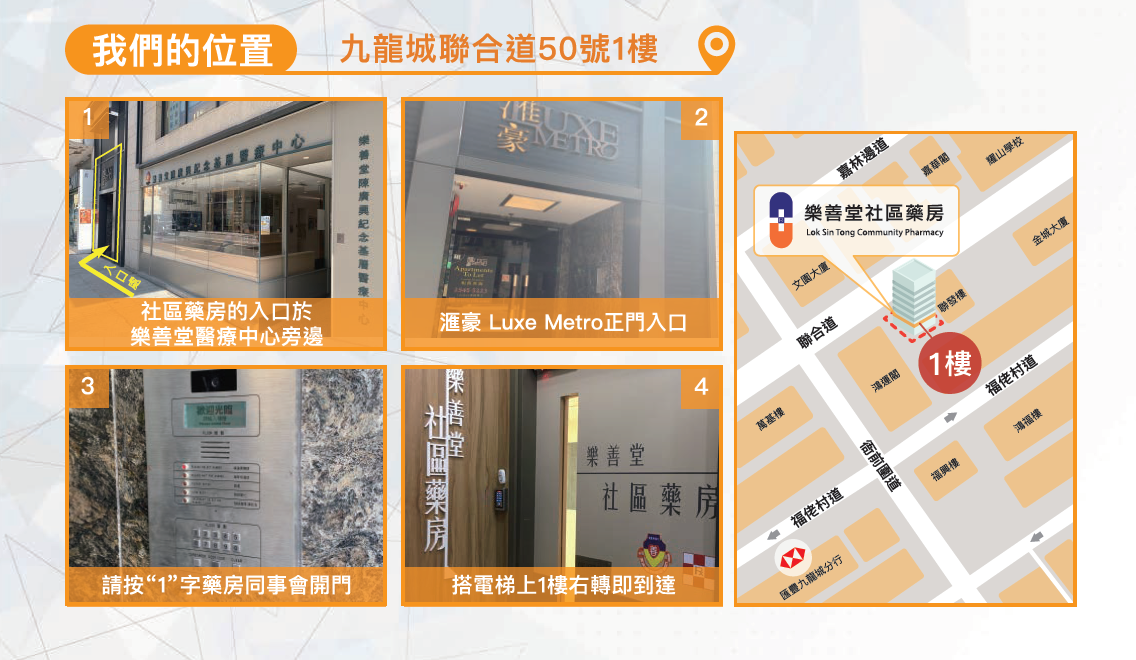 Opening Hours
Monday to Friday: 09:00 – 14:00 ; 15:00-18:30
Saturday: 09:00 – 18:00
Sunday and Public Holidays: Closed
Contact
Tel: 9723 3717(WhatsApp: https://wa.me/85297233717)/ 2361 1308
Fax: 2361 6933
Email: lstcp@loksintong.org
Facebbok: Lok Sin Tong Community Pharmacy
>>Product Catalog (Chinese Only)<<
>>SFI (Self-financed Items) Drug List<<
# Drug prices are for reference only. (Last updated on 1-4-2021) They are subject to change without further notice. Some of the listed drugs may have special discounts. Please contact our pharmacy to get the latest price.
* Represents that we usually provide generic brand. Upon expiration of patent of originator product, other qualified pharmaceutical companies can produce the same medication (generic brand), usually at a more affordable price. These generic medications are still subject to stringent review by the Department of Health prior to their registration in Hong Kong. Most of the generic medications supplied by us are manufactured in Western countries.
Drug class

Medication

Reference Price#

Anticoagulant

Eliquis (Apixaban)

We now provide a special discount. Contact us for more information.

Pradaxa (Dabigatran)

We now provide a special discount. Contact us for more information.

Lixiana (Edoxaban)

We now provide a special discount. Contact us for more information.

Xarelto (Rivaroxaban)

15mg/20mg:
$602/box (28's)

10mg:
$322.5/box (15's)

2.5mg:
$672/box (56's)

(HA prescription)

Antiplatelet

Clopidogrel * (Brand name: Plavix )

Generic price:
$99/box (30's)

Aspirin EC * (Brand name: Cartia )

Generic price:
$1.0/tab (Made in Korea)

(Over-the-counter drug)

Brilinta (Ticagrelor)

(60mg) Purchase less than 2 boxes:
$830/box (56's)

(60mg) Purchase 2 boxes or more:
$680/box (56's)

(90mg) Purchase less than 2 boxes:
$980/box (56's)

(90mg) Purchase 2 boxes or more:
$800/box (56's)

(HA Prescription,there is a buy 6 get 1 free promotion, please contact us for more information.)

Antidiabetic

Januvia (Sitagliptin)

We now provide a special discount. Contact us for more information.

Trajenta (Linagliptin)

$406/box (28's)

Galvus (Vildagliptin)

$190.4/box (28's)

Trajenta Duo (Linagliptin 2.5mg / Metformin 850mg)

$408.8/box (56's)

Galvus Met (Vildagliptin 50mg / Metformin 1000mg)

$408/box (60's)

Kombiglyze XR (Saxagliptin 2.5mg / Metformin 1000mg)

Purchase less than 3 boxes:
$435/box (56's)

Purchase 3 boxes or more:
$405/box (56's)

(HA prescription)

Kombiglyze XR (Saxagliptin 5mg / Metformin 1000mg)

Purchase less than 3 boxes:
$400/box (28's)

Purchase 3 boxes or more:
$370/box (28's)

(HA prescription)

Nesina (Alogliptin)

We now provide a special discount. Contact us for more information.

Oseni (Alogliptin 25mg / Pioglitazone 30mg)

We now provide a special discount. Contact us for more information.

Novonorm (Repaglinide)

$531/box (90's)

Forxiga (Dapagliflozin)

Purchase less than 3 boxes:
$380/box (28's)

Purchase 3 boxes or more:
$345/box (28's)

(HA prescription)

Xigduo XR (Dapagliflozin 10mg / Metformin 1000mg)

Purchase less than 3 boxes:
$470/box (28's)

Purchase 3 boxes or more:
$430/box (28's)

(HA prescription)

Jardiance (Empagliflozin)

We now provide a special discount. Contact us for more information.

Invokana (Canagliflozin)

$369/box (30's)

Acarbose * (Brand name: Glucobay )

Generic price 50mg:
$108/box (60's)

Generic price 100mg:
$120/box (60's)

Glucophage XR (Metformin)

500mg:
$108/box (60's)

750mg:
$84/box (30's)

1000mg:
$222/box (60's)

Metformin * (Brand: Glucophage )

Generic price:
$5/strip (10's)

Pioglitazone * (Brand name: Actos )

Generic price 15mg:
$90/box (30's)

Generic price 30mg:
$120/box (30's)

Apidra (Insulin Glulisine)

100U/mL Pre-filled Pen 3mL

$475/box (5's)

Lantus (Insulin Glargine)

100U/mL Pre-filled Pen 3mL

We now provide a special discount. Contact us for more information.

Levemir (Insulin Detemir)

100U/mL Pre-filled Pen 3mL

$990/box (5's)

Mixtard 30 (Insulin Human/Insulin Isophane Human)

100IU/mL Pre-filled Pen 3mL

$600/box (5's)

Novorapid (Insulin Aspart)

100U/mL Pre-filled Pen 3mL

$890/box (5's)

Novomix 30 (Insulin Aspart/ Protamine-crystallised Insulin Aspart)

100U/mL Pre-filled Pen 3mL

$920/box (5's)

Toujeo (Insulin Glargine)

300U/mL Pre-filled Pen 1.5mL

$1270/box (5's)

Tresiba (Insulin Degludec)

100U/mL Pre-filled Pen 3mL

$1600/box (5's)

Soliqua (Insulin Glargine/ Lixisenatide)

100U/mL + 50mcg/mL Pre-filled Pen 3mL

$1600/box (3's)

Trulicity (Dulaglutide)

1.5mg/0.5mL Pre-filled Pen

$2490/box (4's)

Victoza (Liraglutide)

6mg/mL Pre-filled Pen 3mL

$1250/box (1's)

Gliclazide MR * (Brand name: Diamicron MR )

Generic price:
$90/box (30's)

Gliclazide * (Brand: Diamicron )

Generic price:
$10/strip (10's)

Bisphosphonate

Alendronate * (Brand name: Fosamax )

Generic price:
$90/box (4's)

Alendronate/ Colecalciferol * (Brand name: Fosamax Plus )

70mg/ 2800 IU [Fosamax Plus ]
70mg/ 5600 IU [Generic]

Fosamax Plus
70mg/ 2800 IU:
$240/box (4's)
Generic price 70mg/ 5600 IU:
$120/box (4's)

Risedronate * (Brand name: Actonel )

Generic price:
$120/box (4's)

Miacalcic (Calcitonin)

We now provide a special discount. Contact us for more information.

Endocrine-Metabolic Agent

Raloxifene * (Brand name: Evista )

Generic price:
$550/box (100's)

Thyroid Hormones

Levothyroxine *

Generic price:
$30.8/box (28's)

Antithyroid

Carbimazole *

Generic price:
$1/tab

Antihyperlipidemic (Statins)

Simvastatin * (Brand name: Zocor )

Generic price 10mg:
$45/box (30's)

Generic price 20mg:
$60/box (30's)

Atorvastatin * (Brand name: Lipitor )

Generic price 10mg:
$90/box (30's)

Generic price 20mg:
$111/box (30's)

Rosuvastatin * (Brand name: Crestor )

Generic price 5mg:
$90/box (30's)

Generic price 10mg:
$111/box (30's)

Generic price 20mg:
$140/box (28's)

Pravastatin

Generic price:
$150/box (30's)

Antihyperlipidemic

Ezetimibe* (Brand name: Ezetrol )

Generic price: $138/box (30's)

Fenofibrate * (Brand: Lipanthyl Supra )

Generic price:
$4/tab

Gemfibrozil * (Brand: Lopid )

Generic price:
$1.7/cap

Cholestyramine *

Generic price:
$9/sachet

Benign Prostatic Hypertrophy Agent

Duodart (Dutasteride 0.5mg/Tamsulosin 0.4mg)

We now provide a special discount. Contact us for more information.

Finasteride (Brand name: Proscar )

Generic price:
$28/strip (10's)

Dutasteride (Brand name: Avodart )

Generic price:
$210/box (30's)

Tamsulosin * (Brand name: Harnal )

0.2mg OD ER Tablet (Harnal D )
0.4mg CR Tablet (Generic for Harnal OCAS )

Harnal D 0.2mg:
$322/box (28's)

Generic price 0.4mg:

$99/box (30's)

Doxazosin * (Brand name: Cardura XL )

Generic price:
$33.6/strip (14's)

Alfuzosin * (Brand name: Xatral XL )

Generic price:
$4/tab

Urief (Silodosin)

We now provide a special discount. Contact us for more information.

Overactive Bladder Medication

Betmiga (Mirabegron)

We now provide a special discount. Contact us for more information.

Oxybutynin *

Generic price:
$2/tab

Solifenacin * (Brand name: Vesicare )

Generic price:
$240/box (30's)

Antiandrogenic Hormone Preparation

Androcur (Cyproterone)

We now provide a special discount. Contact us for more information.

Men's Health

Finasteride * (Brand name: Propecia )

Generic price:
$35/strip (10's)

Minoxidil * (Brand name: Regaine )

Generic price:
$230/bottle (60mL)

Sildenafil * (Brand name: Viagra )

Generic price 50mg:
$68/box (4's)

Generic price 100mg:
$100/box (4's)

Tadalafil * (Brand name: Cialis )

5mg (Cialis )
10mg (Cialis )
20mg (Generic)

Cialis 5mg & 10mg:

We now provide a special discount. Contact us for more information.

Generic price 20mg:

$160/box (4's)

Antiestrogenic Hormone Preparation

Tamoxifen * (Brand name:Nolvadex-D )

Generic price:

$225/box (30's)

Women's Health / Female Sex Hormones

Norethisterone *

Generic price:
$39/box (30's)

Progesterone *

Generic price:
$420/box (21's)

Lipase Inhibitor

Orlistat * (Brand name: Xenical )

Generic price 60mg:
$99/box (21's)

Generic price 120mg:
$105/box (21's)

Antihypertensive

Atenolol * (Brand name: Tenormin )

Generic price 50mg:
$30/box (30's)

Generic price 100mg:
$60/box (30's)

Bisoprolol * (Brand name: Concor )

Generic price 2.5mg:

$12/strip (10's)
Generic price 5mg:
$1.8/tab

Metoprolol tartrate * (Brand name: Betaloc )

Generic price:

$1/tab

Metoprolol succinate * (Brand name: Betaloc Zok )

25mg Prolonged-Release Tablet
100mg Prolonged-Release Tablet

Generic price 25mg:
$28/strip (10's)

Generic price 100mg:

$23/strip (10's)

Labetalol * (Brand: Trandate )

Generic price:
$40/strip (10's)

Co-Aprovel (Irbesartan / Hydrochlorothiazide)

300mg/ 12.5mg
150mg/ 12.5mg

300mg/ 12.5mg:

$218.4/box (28's)

150mg/ 12.5mg:

$176.4/box (28's)

Irbesartan * (Brand name: Aprovel )

Generic price 150mg:
$84/box (28's)

Generic price 300mg:
$112/box (28's)

Candesartan * (Brand name: Blopress)

Generic price:
$66/box (30's)

Losartan * (Brand name: Cozaar )

Generic price:
$2/tab

Adalat GITS (Nifedipine)

$174/box (30's)

Amlodipine * (Brand name: Norvasc )

Generic price 5mg:
$30/box (30's)

Generic price 10mg:
$60/strip (30's)

Amlodipine / Valsartan * (Brand name: Exforge )

10mg / 160mg
5mg / 160mg
5mg / 80mg

Generic price
10mg / 160mg:
$140/box (28's)

Generic price
5mg / 160mg:
$112/box (28's)

Generic price
5mg / 80mg:
$84/box (28's)

Acerycal (Perindopril / Amlodipine)

5mg/5mg:

$255/box (30's)

10mg/5mg:

$270/box (30's)

Lesyn (Lacidipine)

$42/box (30's)

Edarbi (Azilsartan)

We now provide a special discount. Contact us for more information.

Hydrochlorothiazide *

Generic price:
$1/tab

Olmesartan * (Brand name: Olmetec )

Generic price:
$90/box (30's)

Telmisartan * (Brand name: Micardis )

Generic price 40mg:
$90/box (30's)

Generic price 80mg:
$120/box (30's)

Valsartan * (Brand name: Diovan )

Generic price 80mg:
$112/box (28's)

Generic price 160mg:
$196/box (28's)

Nebilet (Nebivolol)

$173.6/box (28's)

Herbesser R (Diltiazem Hydrochloride)

$22/strip (10's)

Pulmonary Arterial Hypertension

Sildenafil * (Brand:Revatio )

Generic price :
$70/strip (10's)

Diuretic

Inspra (Eplerenone)

$1200/box (30's)

Indapamide * (Brand: Natrilix ) Sustained-Release Tab

Generic price:
$84/box (30's)

Spironolactone * (Brand: Aldactone )

Generic price:
$60/box (30's)

Furosemide (a.k.a. Frusemide, Brand: Lasix )

Generic price:
$10/strip (10's)

Heart Failure

Entresto (Sacubitril/ Valsartan)

50mg/100mg:
$770/box (28's)

200mg:
$1540/box (56's)

Coralan (Ivabradine)

$498.4/box (56's)

Antiarrhythmic

Multaq (Dronedarone)

We now provide a special discount. Contact us for more information.

Digoxin *

Generic price:
$28/box (28's)

Flecainide * (Brand name: Tambocor )

Generic price:
$75/strip (10's)

Sotalol *

Generic price:
$35/strip (10's)

Anti-angina

Trimetazidine * (Brand name:Vastarel MR )

Generic price:
$22/strip (10's)

Ranexa (Ranolazine) Prolonged-Release Tablet

$612/box (60's)

Isosorbide Mononitrate * (Brand name: Imdur )

60mg Extended-Release Tablet

Generic price:

$3.5/tab

Iron Chelators

Ferriprox (Deferiprone)

$2500/box (50's)

Anti-asthmatic & COPD

Vannair (Budesonide/ Formoterol)

160/4.5mcg [120 Doses] Metered-dose Inhaler

Purchase less than 3 boxes:
$380/box

Purchase 3 boxes or more:
$360/box

(HA prescription)

Relvar (Fluticasone furoate/ Vilanterol)

100/25mcg [30 Doses] Ellipta® Dry Powder Inhaler

We now provide a special discount. Contact us for more information.

Montelukast * (Brand name: Singulair )

Generic price:
$25/strip (10's)

Anti-allergy

Labixten (Bilastine)

$40/box (10's)

Antigout

Feburic (Febuxostat)

We now provide a special discount. Contact us for more information.

Narcaricin Mite (Benzbromarone)

每盒$180 (30粒)

Neuropathic Pain

Gabapentin *(Brand name: Neurontin )

Generic price 300mg:

$35/strip (10's)

Pregabalin * (Brand name: Lyrica )

Generic price 25mg:
$196/box (56's)

Generic price 50mg:
$224/box (56's)

Generic price 75mg:
$252/box (56's)

Thiogamma (Thiotic Acid)

$339/box (30's)

Pain

Celecoxib * (Brand name: Celebrex )

Generic price:
$50/strip (20's)

Mohrus (Ketoprofen)

We now provide a special discount. Contact us for more information.

Antidepressant

Duloxetine* (Brand name: Cymbalta )

30mg delayed release capsule
60mg delayed release capsule

Generic price 30mg:
$150 (30's)

Generic price 60mg:
$255 (30's)

Escitalopram * (Brand name: Lexapro )

Generic price:

$98/box (28's)

Mirtazapine * (Brand: Remeron )

15mg (Orodispersible Tablet)

Generic price:
$120/box (30's)

Sertraline * (Brand name: Zoloft )

Generic price:
$28/strip (10's)

Trazodone * (Brand name: Trittico )

Generic price:
$1.8/tab

Valdoxan (Agomelatine)

We now provide a special discount. Contact us for more information.

Venlafaxine * (Brand: Efexor )

75mg Extended-Release Capsule

Generic price:
$105/box (30's)

Antipsychotic

Quetiapine * (Brand name: Seroquel )

Generic price 25mg:
$135/box (30's)

Generic price 100mg:
$150/box (30's)

Dementia

Memantine * (Brand name: Ebixa )

Generic price 10mg:
$3.5/tab

Donepezil * (Brand name: Aricept )

Generic price:
$150/box (30's)

ADHD Medications

Atomoxetine * (Brand name: Strattera )

Generic price 40mg:
$600/box (30's)

Generic price 80mg:
$600/box (30's)

Proton Pump Inhibitor

Pantoprazole * (Brand name: Pantoloc )

Generic price 20mg:
$42/box (14's)

Generic price 40mg:
$56/box (14's)

Dexilant (Dexlansoprazole)

We now provide a special discount. Contact us for more information.

Esomeprazole * (Brand name: Nexium )

Generic price 20mg:
$49/box (14's)

Generic price 40mg:
$56/strip (14's)

Rabeprazole * (Brand name: Pariet )

Generic price 20mg:
$103.6/box (28's)

Takepron OD (Lansoprazole)

30mg Orodispersible Tablet

We now provide a special discount. Contact us for more information.

Glaucoma agents

Latanoprost / Timolol *(Brand name: Xalacom )

Generic price:
$140/bottle (2.5mL)

Travatan (Travoprost)

$270/bottle (2.5mL)

Atopic dermatitis

Protopic (Tacrolimus)

$430/tube (30g)

Staquis (Crisaborole)

$1520/tube (60g)

Acne vulgaris

Doxycyline * (Brand: Vibramycin )

Generic price:
$1/tab

Tetralysal (Lymecycline)

We now provide a special discount. Contact us for more information.

Isotretinoin * (Brand: Roaccutane )

Generic price:
$390/box (30's)

Psoriasis

Daivonex (Calcipotriol)

$250/tube (30g)

Onychomycosis
(Tinea unguium)

Amorolfine 5% * (Brand: Loceryl )

Generic price:
$159/box (2.5mL)

Miscellaneous

Cytotec (Misoprostol)

We now provide a special discount. Contact us for more information.

Clomiphene * (Brand name:Fertilan )

Generic price:
$70/box (10's)

Entecavir * (Brand: Baraclude )

Generic price:
$390/box (30's)

Hyalgan (Hyaluronic acid)

10mg/ml (Intra-articular)

We now provide a special discount. Contact us for more information.

Mestinon (Pyridostigmine)

We now provide a special discount. Contact us for more information.

Methycobal (Mecobalamin)

We now provide a special discount. Contact us for more information.

Mycophenolate Mofetil * (Brand: Cellcept )

Generic price:

$700/box (50's)

(Brand substitution of this medication is not recommended)

Myfortic (Mycophenolic acid)

360mg

We now provide a special discount. Contact us for more information.

Sodium Bicarbonate *

$0.5/tab

Somazina (Citicoline)

We now provide a special discount. Contact us for more information.

Terbinafine * (Brand: Lamisil )

Generic price:
$70/box (14's)

Pentasa (Mesalazine)

2g Sachet (Prolonged release granules)

We now provide a special discount. Contact us for more information.

Ubretid (Distigmine)

We now provide a special discount. Contact us for more information.

Piracetam * (Brand: Nootropil )

Generic price:
$2.3/tab

Ursodeoxycholic Acid * (Brand: Ursofalk )

Generic price:
$4.8/tab

Clobetasol Propionate * (Brand: Dermovate )

Generic price:
$42/tube (15g)

Amoxicillin * (Brand: Amoxil )

Generic price:
$2/cap

Clarithromycin * (Brand:Klacid )

Generic price:
$3/tab

Colchicine *

Generic price:
$10/strip (10's)