Our Services
Medical & Health
Lok Sin Tong Community Pharmacy
Lok Sin Tong Community Pharmacy
With a growing demand for healthcare services in the community, The Lok Sin Tong Benevolent Society, Kowloon established a community pharmacy in Kowloon City. We aim at strengthening primary care support in the community via a wide range of new community pharmacy services. The Pharmacy is managed by community pharmacists who strive to provide quality and affordable pharmacy services to the public.
Service Features
Dispensing SFI (Self-financed items) prescription medications at an affordable price with counselling by our pharmacists

Dispensing medications for Cold and Flu with counselling by our

registered

pharmacists

One-stop service featuring pharmacist management of minor ailments

Free pharmacist consultation on medication use and health-related problems

Safe Med Pack (Medicine pack for travelling and home use)

Community outreach services
Address
1/F, 50 Junction Road, Kowloon City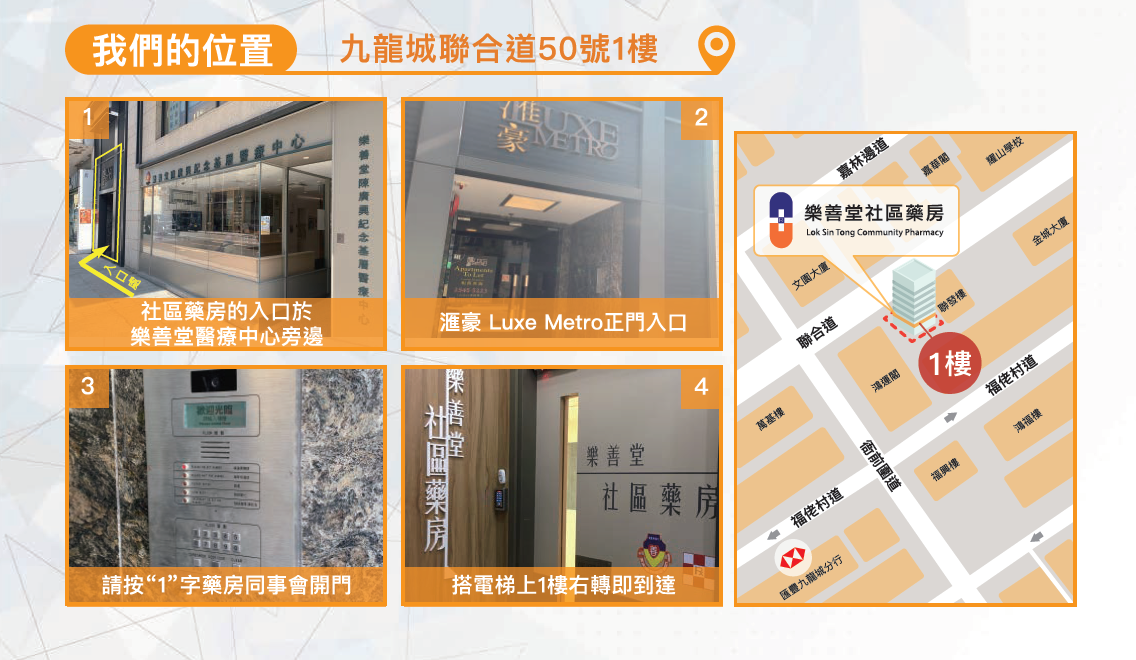 Opening Hours
Monday to Friday: 09:00 – 14:00 ; 15:00-18:30
Saturday: 09:00 – 13:00
Sunday and Public Holidays: Closed
Contact
Tel: 9723 3717 (+WhatsApp)/2361 1308
Fax: 2361 6933
Email: lstcp@loksintong.org
SFI (Self-financed Items) Drug List:
*Represents that we usually provide generic brand. Upon expiration of patent of originator product, other qualified pharmaceutical companies can produce the same medication (generic brand), usually at a more affordable price. These generic medications are still subject to stringent review by the Department of Health prior to their registration in Hong Kong. All generic medications supplied by us are manufactured in Europe.
Drug class

Medication

Anticoagulant

Eliquis (Apixaban)

Pradaxa (Dabigatran)

Lixiana (Edoxaban)

Xarelto (Rivaroxaban)

Antiplatelet

Plavix (Clopidogrel) *

Antidiabetic

Januvia (Sitagliptin)

Trajenta (Linagliptin)

Galvus (Vildagliptin)

Forxiga (Dapagliflozin)

Jardiance (Empagliflozin)

Bisphosphonate

Fosamax (Alendronate) *

Endocrine-Metabolic Agent

Evista (Raloxifene) *

Antihyperlipidemic (Statins)

Zocor (Simvastatin) *

Lipitor (Atorvastatin) *

Crestor (Rosuvastatin) *

Antihyperlipidemic

Ezetrol (Ezetimibe)*

Benign Prostatic Hypertrophy Agent

Proscar (Finasteride)

Heart Failure

Entresto (Sacubitril/ Valsartan)

Antigout

Feburic (Febuxostat)

Proton Pump Inhibitor

Pantoloc (Pantoprazole) *